Maria Cichosz & Noor Naga | Faculty Reading Series
Location: Old Vic Building, VC102
In addition to being teachers and scholars, many of Victoria College's faculty are creative writers in their own right. Join us for this event where our distinguished professors will be sharing their recent publications with the community.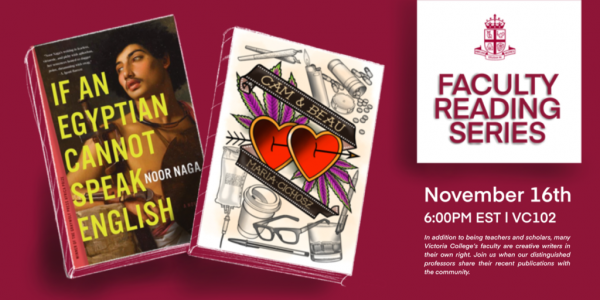 Maria Cichosz is a fiction writer and scholar of post-1945 literature, critical theory, and the histories and cultures of psychoactive drugs. Her work has appeared in Critique, The Los Angeles Review of Books, The Puritan, and on the CBC Literary Awards shortlist, among other places. Maria's first novel, Cam & Beau (2020), is an off-beat stoner love story that was featured in The Toronto Star and Quill & Quire and was a finalist for the 2021 ScreenCraft Cinematic Book Awards. She is the Fiction Editor at Broken Pencil magazine and is currently working on a new novel with support from the Canada Council for the Arts.
Noor Naga is an Alexandrian writer who was born in Philadelphia, raised in Dubai, studied in Toronto and previously taught in Cairo. Her verse-novel Washes, Prays (2020) won the Pat Lowther Memorial Award and the Arab American Book Award. Her novel If an Egyptian Cannot Speak English (2022) won the Graywolf Press African Fiction Prize, the Center for Fiction's First Novel Prize, the Arab American Book Award, as well as being shortlisted for the Scotiabank Giller Prize among others.
For more information, please email: nfc@utoronto.ca