Naba Khan: The Brian David Radford Memorial Scholarship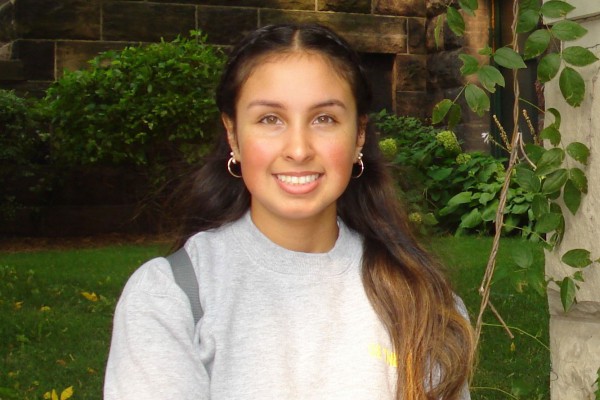 Thanks to her academic standing and involvement in co-curricular activities, Naba Khan has received The Brian David Radford Memorial Scholarship. As she completes her Bachelor of Science in global health and political science, she looks forward to a career in medicine and to continue advocating for inclusive health access. "Receiving this award makes me happy and proud. It allows me to focus on my goal to become a first-generation doctor in my family. It also encourages me to continue to study hard and pursue all my volunteer activities," says Khan. Currently Khan's co-curricular activities include volunteering for the NICU at Cortellucci Vaughan Hospital, volunteering as a peer tutor for Pathways to Education at the Rexdale Community Health Centre, and being on the peer support executive for the Vic Organization for Information, Care, and Empowerment of Survivors (VOICES). "I find that volunteering for the hospital has shown me what being a leader in healthcare can look like. I also want to demonstrate that I am trustworthy and reliable to staff and patients," she says.
In addition to these positions, Khan is a research assistant for the Centre for Sustainable Health Systems within U of T's Dalla Lana School of Public Health. "All the other assistants are graduate students or have been in the field longer than I have. I think I help bring a new perspective and skillset to the team," she says.
And, on top of all her volunteer hours, Khan is a commuter student and as such she has taken advantage of the events set up by commuter dons. "The dons have helped me navigate the social aspect of University life. There are so many resources for commuters at Vic. There truly is a space for the commuter student here," she says.