NFC Visiting Fellow Lecture 2022-23
"'...the mud on our shoulders...': Luciano Berio and the Postwar Historical Imagination"
We are pleased to invite you to our 2022-23 Visiting Fellow Lecture,
"'...the mud on our shoulders...': Luciano Berio and the Postwar Historical Imagination", with Professor
Thomas Peattie (University of Mississippi)
on
Thursday
, March 23 at 12:00 pm
EST
at the Northrop Frye Centre (VC102), Old Victoria College Building.
This is a virtual event; a Zoom link will be sent out to those who register for a virtual attendance ticket.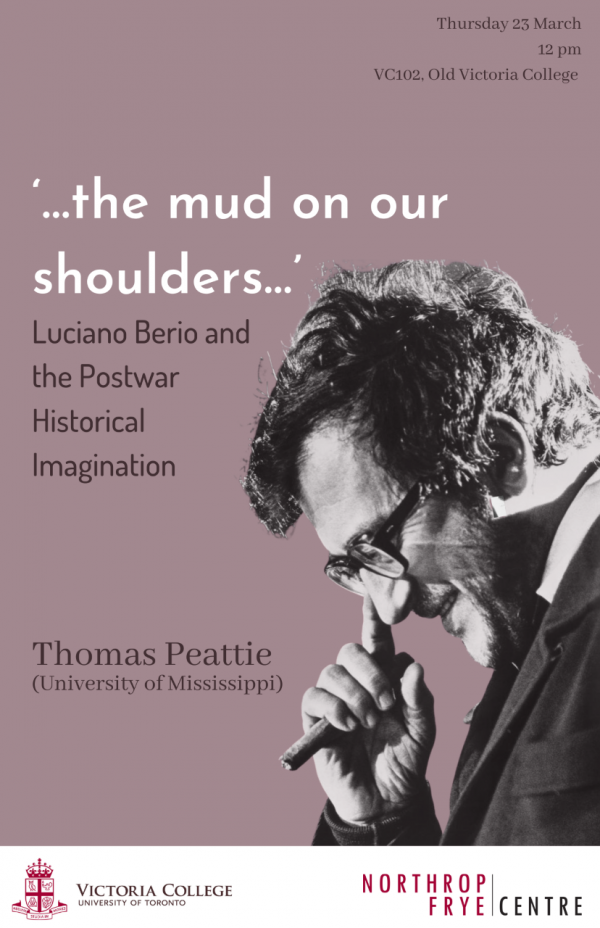 About the talk...
In a 1999 interview, Luciano Berio offered an admiring description of what is perhaps the most singular feature of Gustav Mahler's songs and symphonies: namely, that this music is, at its core, "inhabited by other music." Although most works are in dialogue with a wide range of historical models, there is much in Berio's deceptively straightforward observation that deserves more careful attention, especially as it concerns the composer's own relationship to music history. Indeed, Berio's evident attraction to the idea that music might be inhabited by other music reveals a clear understanding of the more general idea that works of art are always marked by their precedents, "the mud on our shoulders" as the composer's sometime collaborator Edoardo Sanguineti put it. Whereas for Berio one of the most important generating forces of a work's musical identity is an explicit dialogue with its own history, it is ultimately the self-conscious nature of this dialogue that allowed Berio to see the composers he transcribed as fellow travellers in a landscape in which music is, by definition, always about music. In this paper I consider two categories of "music about music" in Berio's transcribing practice in order to highlight the composer's unique attitude toward the musical past in the context of the postwar avant-garde. The first category concerns the use of quotation and allusion, a practice that in Berio's hands shares a number of surprising similarities with the kind of intertextual strategies found in much nineteenth-century music. The intertextual references in the second category, by contrast, have their origins in a far broader sound world drawn from Berio's own [re]construction of specific sonic events both real and imagined.
About the speaker...
Thomas Peatti
e
is Associate Professor of Music at the University of Mississippi. He holds degrees in composition and musicology from the University of Calgary and a Ph.D. in historical musicology from Harvard University. His research explores the relationship between Romanticism and modernism with a particular emphasis on the music of Gustav Mahler and Luciano Berio. He is the recipient of fellowships from the Social Sciences and Humanities Research Council of Canada, the Boston University Center for the Humanities, the Paul Sacher Foundation (Basel), and the Italian Academy for Advanced Studies in America at Columbia University. Peattie's recent research has appeared in numerous journals and edited volumes including
Music, Modern Culture, and the Critical Ear
(Routledge, 2018),
Giacinto Scelsi: Music Across the Borders
(Brepols, 2019),
Mahler in Context
(CUP, 2020), and
The Cambridge Companion to Music and Romanticism
(2021), the
Journal of the Royal Musical Association, Music and Letters, Nineteenth-Century Music Review,
and
Contemporary Music Review
. He is the author of
Gustav Mahler's Symphonic Landscape
s
(
Cambridge, 2015) and is currently preparing a monograph on the transcribing practice of Luciano Berio.
NFC Doctoral Fellow Lecture Series
Morgan Moore – Oct 25, 2022

Performing Dialogue in Courtly Poetry from Medieval England and Wales

      VC102, Old Victoria College Building, 91 Charles st. West





About the talk


In my dissertation, I approach medieval vernacular literary performance at multiple intersections—in the liminal spaces between drama and poetry, between Wales and England, between written page and live entertainment. This talk will draw from my current work on courtly forms of conversation depicted in certain medieval romances. 'Courtly' behavior in Middle Welsh and Middle English literature relies on skillful conversation, even as court poetry relies on moments of dialogue to elucidate character, heighten narrative tension, and advance plot. At the same time, literary dialogue is operative in a performance context, as audiences heard such works performed or read aloud. Inspired in part by Thomas Reed's willingness to read Sir Gawain and the Green Knight as part of the medieval debate tradition, I argue that texts which feature central moments of dialogue belong to a broader, cross-genre category of literary performance which also includes the plays and dialogue poems I consider elsewhere in my dissertation. In these works, conversation becomes an opportunity and mechanism for the development of shared and reciprocal engagement, entertainment, and intimacy.

About the speaker

Morgan Moore

(she/her/hers) is a PhD candidate at the University of Toronto's Centre for Medieval Studies. She holds an MA in Medieval Welsh Literature from Aberystwyth University and a BA in Medieval and Renaissance Studies from Wellesley College. Her current project deals with ideas of dialogue, performance, and communal entertainment in medieval verse and drama, especially as presented in manuscripts from medieval England and Wales. She is currently a Research Assistant for the Records of Early English Drama (https://ereed.library.utoronto.ca/) and the Old Books New Science lab (https://oldbooksnewscience.com/), and she has previously served as the Chair of the Centre for Medieval Studies' Student Executive Committee.
Eriks Bredovskis – Nov. 24, 2022

If You Give a German Some Film: Three Sources and the Voyage of the Falke in the Pacific Northwest, 1905

      4:00pm, Nov. 24, 2022

      VC102, Old Victoria College Building, 91 Charles st. West

About the Talk

What happens when a German naval captain, who travels around the world, gets his hands on a camera? This paper, taken from one chapter of my dissertation, asks that question. I follow a German cruiser, the Falke, in the Summer of 1905 when it travelled up and down the west coast of North America on a multi-year tour of the Americas. Three sets of documents remain of his voyage: his official reports to the Imperial Naval Office, his private diary, and his scrapbook. Taken separately, each set of documents narrates a very different experience in the Pacific Northwest. The official reports prioritize American and British military and economic expansion—it also portrays the region as void of women and Indigenous people. Behncke's diary and scrapbook, however, recount the various parties Behncke attended, the landscapes he enjoyed, and the white settlers he met, thus suggesting the west coast as a lively space for socialization and forming global connections, albeit for Europeans. The postcards and personal photographs in Behncke's scrapbook further show how cultural assumptions (German, masculine, or European) affected what he thought was worth spending valuable film on or be remembered through a commercially purchased postcard. When we look at these sources together, we see how even when Germans were visitors to non-German colonies, they behaved like it was their own. Behncke's voyages (and these three sets of documents) provides a unique window through which we can examine the making of Germany's ideas of a globalized and interconnected imperial world.

Eriks Bredovskis

(he/him) is a PhD Candidate in the Department of History at the University of Toronto. He is affiliated with the Anne Tanenbaum Centre for Jewish Studies. His dissertation examines Germans moving across British, American, Russian, and Japanese imperial boundaries in the Northern Pacific Ocean between 1880 and 1920. His research interests also include investigating questions of family history, memory, and home. He is also interested in creative and digital pedagogy. Eriks has published in the German Studies Review, and most recently in an edited volume that examines the connected histories of Germany's and the United States' colonial empires.
Colleen McDonell – Feb. 9, 2023

Gothic Mediums

      VC102, Old Victoria College Building, 91 Charles st. West

About the talk

For most of Queen Victoria's reign, domestic servants were the largest category of workers, labouring and often living under the same roofs as their employers. At the same time, Gothic fiction became increasingly domesticated: moving away from the remote pasts and foreign places of eighteenth-century Gothic novels, the genre was projected instead onto more familiar, everyday settings for middle-class British readers. My dissertation analyzes servant characters in Victorian Gothic fiction, arguing that these maids, butlers, and housekeepers are often represented as "mediums" in how they interact with the dead and serve as channels of communication between different social classes. In this talk, I take Emily Brontë's Wuthering Heights (1847) and George Eliot's "The Lifted Veil" (1859) as case studies for exploring this servant-medium dynamic and turn briefly to its depictions in magazines of the period. Studying the servant figure in Victorian Gothic fiction provides insight into theories of non-realist genres as well as (mis)conceptions of domestic labour—conceptions that may continue to haunt contemporary literature.

About the speaker

Colleen McDonell is a Ph.D. candidate in English and the collaborative Book History and Print Culture program. Her dissertation analyzes servants in Victorian Gothic fiction and how these characters can act as "mediums" within the home. More broadly, this work examines domestic space as a nexus between fear and fraught representations of class and labour.

Outside of her research, Colleen has served as the Canadian Graduate Representative for the North American Victorian Studies Association, as a co-convener for the Nineteenth Century Reading Group in the Department of English, and as a printing volunteer at the Massey College Bibliography Room. In her free time, she enjoys painting, practicing yoga, and going on ghost tours.
Hong Liu – March 2, 2023

      VC102, Old Victoria College Building, 91 Charles st. West

About the speaker

Hong Liu is a PhD candidate in the Centre for Comparative Literature at the University of Toronto. Her research traces the entanglement of tragedy and history in early-modern European theatrical culture and intellectual history (1597-1665) by exploring cultural-historical concepts including melancholy and allegory. Her work explores how early-modern theatre's organization of social affects and historical consciousness continues to inform contemporary theorization of sovereignty, freedom, and democracy.

Before starting her PhD study, Hong worked in theatre and publishing. She continues to work as a translator of non-fiction books about art and nature. She is also a volunteer and advocate for reproductive rights and justice.
NFC Annual Lecture: Julie Beth Napolin
"Unrecordable Sound"
      VC102, Old Victoria College Building, 91 Charles st. West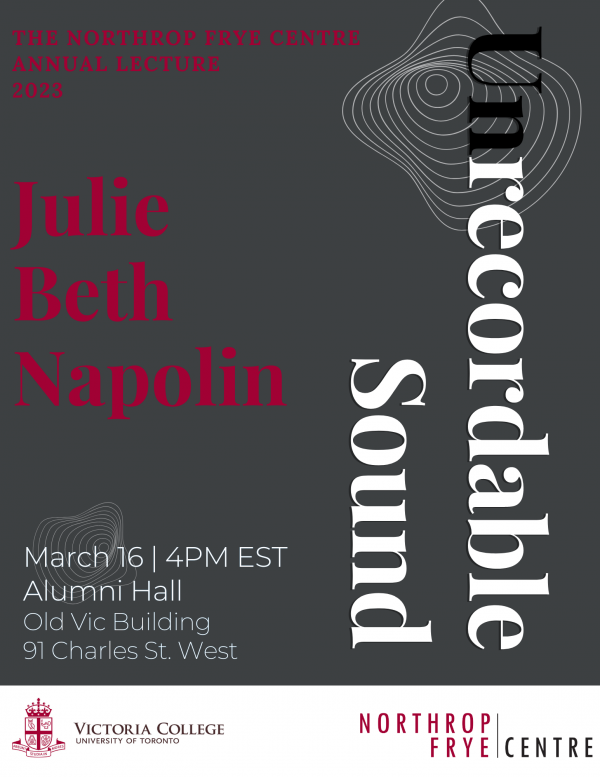 About the talk...
This is a talk about the history of sound technology and the racial unconsciousness, and the ways sound technology is implicated in the history of racist violence in America. Technology is part and parcel of the racial unconscious, or what it means to imagine race. My talk touches on literature as it records sounds that other media cannot, both representing the sonic imaginary of racist terror and lynching, while also stepping into future worlds. Drawing on literary cases from William Faulkner and Harlem Renaissance writer Angelina Weld Grimké, I argue for what I call "heterophonia" in literature, wherein it becomes impossible to determine whether a sound has been recorded or is naturally vibrating, and for literature as predicting technologies like the microphone and headphones.
About the Speaker...
Julie Beth Napolin is a scholar, musician, and radio producer. She is the co-President of the William Faulkner Society, a member of the editorial board of Sound Studies: An Interdisciplinary Journal, and a member of the MLA Sound Forum executive committee.
She works across sound, modernism, memory studies, digital humanities, film and media, race, gender and sexuality, narrative and novel theory, and psychoanalysis. She is particularly interested in the history of sound reproduction and its intersections with the history of the novel, art, and film and media, asking what practices of technological listening can tell us about the politics of memory and form. Her essays on sound in the work of Joseph Conrad have been awarded the Bruce Harkness Prize (2013) and the J.H. Stape Conradiana Prize (2020). She completed a PhD in Rhetoric at UC Berkeley with Ramona Naddaff, Trinh T. Minh-ha, Judith Butler, and Carolyn Porter.
The Lecture will be held in-person at Alumni Hall, Old Victoria College Building (91 Charlest St. West). Please email us at nfc@utoronto.ca with any notes on accessibility needs, or if you have any questions about the event.