Supporting Victoria's Best and Brightest
The generous contributions from Victoria College donors like you make funding for graduating awards possible. Victoria College is thrilled to highlight some of its most exceptional graduates from convocation in June 2022. In addition to achieving academic success, many of these students, including Ori Gilboa Vic 2T2, made extraordinary contributions outside the classroom and enriched the lives of those around them. Vic's extensive awards programs play a significant role in ensuring student success. Thank you for your continued support!
Learn more about some of Victoria University's best and brightest: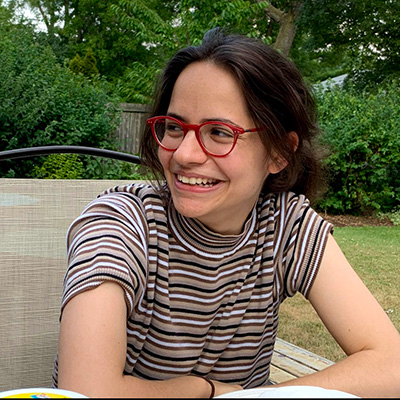 Ori Gilboa Vic 2T2
Ori Gilboa Vic 2T2 certainly knows her way around campus! She has been involved with numerous activities including working for The Varsity, taking up research internships and being part of the philosophy department's Socrates Project. She thoroughly enjoyed being part of Vic One's Gooch stream and ultimately graduated with an HBA with a double major in political science and peace, conflict and justice and a philosophy minor. As a recipient of the Frances Joan Lambier Scholarship in support of her upcoming PhD this fall, she says that she is "immensely grateful to be awarded this scholarship."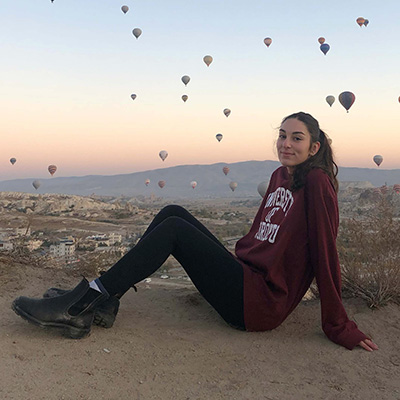 Nicole Emily Freij Vic 2T2
It's easy to see why Nicole Freij Vic 2T2 is a deserving recipient of the Regents Participation Award, which recognizes students who have achieved high standing and have made a significant contribution to student life. A geology specialist with a minor in geographic information systems, Freij was part of the Blue Crew, a student volunteer group, and held senior leadership roles at three student organizations, including the Undergraduate Earth Sciences Association and the Women in Mining, U of T Student Chapter. "It means a great deal to me to feel appreciated for all the hard work I've put into extracurricular activities," says Freij. "It was very rewarding to create a more educational and fun experience for my fellow students."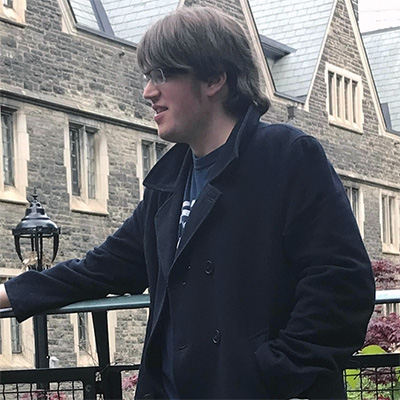 Ryan Peter Ferrucio Hamilton Vic 2T2
Majoring in peace, conflict and justice (PCJ), and a history specialist, Ryan Hamilton Vic 2T2 proved himself a dedicated student as well as an active member of the University community. Hamilton was frequently involved in extracurricular activities, including serving as academic director of the PCJ Student Society and publishing several issues of the Rapoport, a PCJ student journal. Hamilton says he is honoured to be recognized with the Professor D.O. Robson Graduate Scholarship for Study Abroad in support of his upcoming graduate program at Oxford, and is especially grateful for the time he spent in the Vic One Pearson stream, where he met great faculty and friends who played important roles in shaping his time at U of T.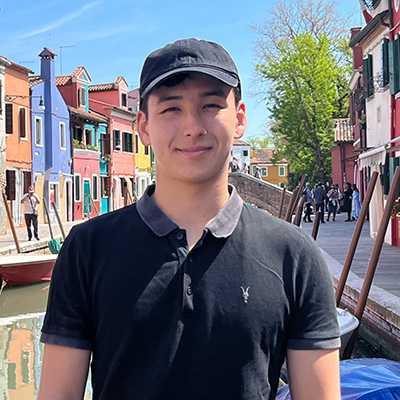 Antoine Taeyong Finot Vic 2T2
Antoine Finot's Vic 2T2 dedication to his studies and his outstanding academic achievements have earned him the Regents Graduating Scholarship. Finot says he is honoured to be receiving the award, and is especially happy to have contributed to the University community through his involvement in a variety of technical-related clubs and activities. In addition to completing his HBSc as a computer science specialist with a minor in statistics, Finot was heavily involved in campus life, serving as a teaching assistant in a number of computer science courses, as well as mentoring international students and acting as treasurer for the Victoria College Athletic Association.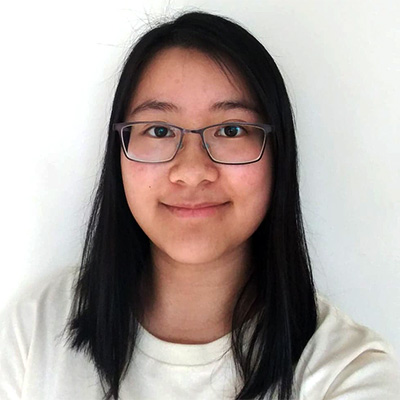 Christina Nga Jing Wong Vic 2T2
Christina Wong Vic 2T2 loves to inspire everyone! Her work with Women in Science and Engineering (WISE), University of Toronto International Health Program (UTIHP), and iGEM Toronto is all about empowerment. Whether it is supporting women in STEM at WISE or in community health services at UTIHP, it is easy to see why that Christina's passion is focused on the health and well-being of communities and individuals. Specializing in laboratory medicine and pathobiology and majoring in global health, her HBSc degree also comes with the Women's Centenary Silver Medal from Vic for being the female student graduating with highest overall A standing. For Christina, the award is special recognition of her persistence in facing new challenges and the many skills that she has gained as an undergrad. She says she is grateful for the incredible support from her mentors, teammates, and friends.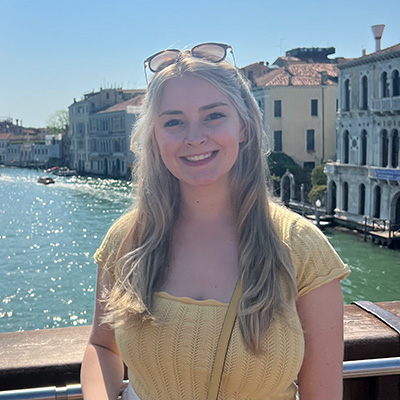 Katherine Anna Hovdestad Vic 2T2
Did you know that Katherine Anna Hovdestad Vic 2T2 was a teaching assistant 11 times during her undergrad at Vic and Rotman? From Victoria University Students' Administrative Council (VUSAC) to her co-founded Rotman Commerce Insurance Association, it is no surprise to say that Katherine was deeply involved in student life activities. She also competed internationally with the Rotman Commerce Competition Team. She is graduating with a BCom, having completed a specialist in management with a minor in economics. For her outstanding academic standing in commerce, Katherine is the recipient of the Rundle Gold Medal. She is grateful for the four welcoming years at Vic. "Vic gave me the toolkit I needed to achieve my academic goals and ultimately my degree," said Katherine.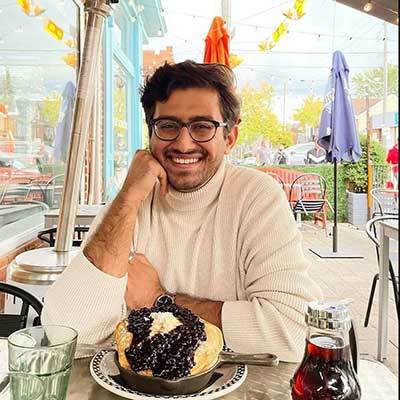 Hasaan Sobaan Vic 2T2
Thanks to an extensive, on-campus presence, Hasaan Sobaan Vic 2T2 has been awarded a Silver "V". At Vic he served as a residence don and senior residence don. He was involved with WUSC-Vic (World University Service of Canada)—a levy that he cared about deeply. Sobaan was a member of the VUSAC Equity Commission and volunteered at the Victoria College Book Sale. "It is such a huge honour to both be recognized, as well as to be nominated from among all the amazing students at Vic who are involved in bettering the world on and off campus in so many incredible and meaningful ways and who always leave me feeling so inspired!"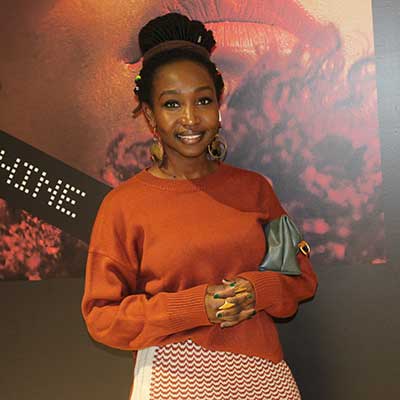 Lulu Yousif Kara Vic 2T2
Accessibility and inclusivity are the name of the game for Lulu Yousif Kara Vic 2T2. Kara has been awarded a Gold "V" Award for her remarkable contributions to Vic. She served as president of the Victoria Black Student Network and as the equity commissioner for VUSAC—both roles that allowed her to work towards creating a more equitable and inclusive environment for students. She was also part of the World University Service of Canada (WUSC) local committee as the events coordinator and Student Refugee Program (SRP) representative. Kara is graduating with an HBSc with a major in health and disease, and minors in Buddhism, psychology and mental health; and, African Studies.
Konrad Samsel Vic 2T2
Konrad Samsel Vic 2T2 is so grateful for the independent research he was able to conduct while still an undergraduate student. Through Sinai Health's Division of Urology and U of T's Department of Nutritional Sciences, he studied the influence of CYP1A2 polymorphisms and dietary caffeine intake on biomarkers of male fertility. He also did research on data-driven healthcare improvement, supported by U of T's School of Cities. For academic excellence in his Medical Science programs, Samsel has been awarded The Kendrick Gold Medal. An active member of the Vic community, he is now graduating with an HBSc in immunology, nutritional sciences and biology. Next Samsel is joining U of T's Dalla Lana School of Public Health's Master of Public Health program as an Ontario Graduate Scholar.
Andie Kim Vic 2T2
The Chancellor Northrop Frye Gold Medal recipient, Andie Kim Vic 2T2, has a special connection with Toronto. From the Sexual and Reproductive Health & Rights (SRHR) Hubs and the Toronto Bike Brigade, they have a deep commitment to mutual aid networks across the city. At UofT, Andie was involved in multiple biological lab research projects. They are incredibly grateful for the opportunities and funding provided by Vic. As a Vic One student, Northrop Frye was an inspiration to Andie, and winning an award bearing his name was a great moment of reflection on their academic journey, scientific philosophy, and gratitude to the community. With the highest overall standing among all Vic graduates, Andie is graduating with an HBSc., specializing in Molecular Genetics and Microbiology.