What is a Vic Global Internship?
Offered by the Victoria College Principal's Office and funded by the Government of Canada's Global Skills Opportunity program, Vic Global Internships provides funding for students to travel, learn, research, and gain professional experience internationally in the context of U of T credit courses.
The main aim of Vic Global Internships is to promote innovative and meaningful international experiential opportunities, and to minimize the financial and administrative barriers to accessing these opportunities. To this end, Vic Global provides three kinds of support to award recipients:
Financial Award: Up to $10,000 in funding for short-term (1-5 weeks), medium-term (6-16 weeks) and long-term (16+ weeks) international experiential opportunities
Wraparound Support: Advising and support is available to all students from the pre-application stage until after their return to Canada
Work-Integrated-Learning (WIL) Ambassadorship: After completing their international experience, Vic Global award recipients will have the opportunity to apply to become a Vic Global Ambassador. Ambassadors support the administration of the program, conduct promotions, and mentor other students who are going abroad with Vic Global.
Why Vic Global?

Access

financial support

to travel and learn in countries around the world
Expand your horizons, broaden your worldview and experience new cultures
Make

invaluable connections

and build a global network
Work in the field

and see firsthand how industries around the world operate
Develop

intercultural & global professional skills

essential for the labour market
Boost your resume

and bring a global perspective to employment opportunities
Eligibility

Domestic Vic students are eligible to receive Vic Global for any international experiential opportunities that take place in the context of a U of T credit course
Domestic students who are not a member of Victoria College are eligible to receive Vic Global for international experiential opportunities that take place in the context of a Victoria College course, as well as for the Kwansei Gakuin University Cross-Cultural College program
Eligible courses must involve an international experiential learning component. Experiential learning activities include internships and other work-integrated placements, research experiences, and fieldwork. To learn more about the experiential learning requirement, and to find out whether your international experience qualifies, email Wanda Thorne at vic.globalinternships@utoronto.ca.
Examples of Vic Global Internships
How to apply

After submitting the application form below, you will be contacted with more information about your eligibility, and, if you are eligible, your personalized funding package.

Applications are accepted on a rolling basis, and must be submitted 6 weeks prior to the departure date of your international experiential learning opportunity.

Apply here
Acknowledgements
This project is funded by Global Skills Opportunity, the Government of Canada's outbound mobility pilot program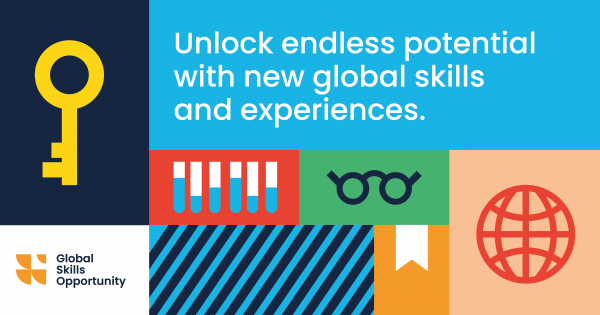 Other Vic International Experience Awards
Both awards are open to students of all colleges in the Faculty of Arts & Science.
Bader International Bursary

Bader International Bursary to attend Bader College at Herstmonceux Castle, England

Read More
Coburn Fellowship Award

Coburn Fellowship Award to attend an official exchange at Tel Aviv University or the Hebrew University of Jerusalem

Read More