Vic Commuter Dons aim to provide you with the same kind of support that is available to residence students from their dons. You can think of us as upper-year student mentors or facilitators who are available to help you with personal, academic, financial or social matters, as well as connect you to university resources.

Also, we are commuters too and have first-hand experience with the struggles of commuting and travelling to and from campus every day. This means that you can come to talk to us about anything! Whether you are having difficulty adjusting to university life or simply want to chat and connect, please feel free to stop by! We would love to see you at our weekly events and/or during our office hours in the Goldring Student Centre. We are here for you and hope to create a campus environment that is commuter-friendly.
We look forward to meeting you!
Here's the Commuter Dons Programming from October 18 to November 5, 2021.
All log-in information is available here.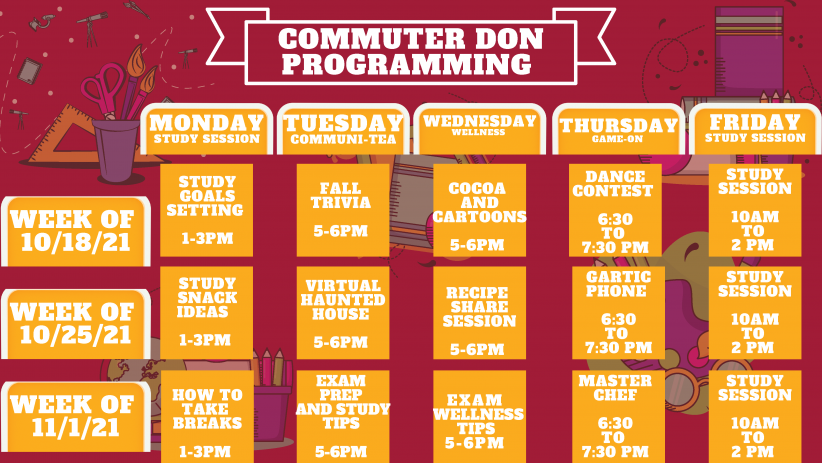 Join the Commuter / Residence Don Team!
Victoria College Dons
Vic's Residence and Commuter Dons act as a resource and are responsible for community development, social/educational programming, crisis intervention, referrals, policy enforcement and the overall well-being of the residents.
Applications for the 2022-23 Residence Don role are not open yet. Stay tuned for more information!
Please note: This application is used for both the Residence Don and Commuter Don roles. You have the option to apply for one or both Donship roles.
Visit the Commuter Dones webpage for more information regarding the Commuter Don role.
If you have questions about the
hiring
process or the Residence
Don
role, please view the
Information about Residence
Don
ship
or
Application Checklist
found below.
Additionally, you can attend either of the Virtual Victoria
Don
Information Sessions.