Events
Victoria College Online Graduation Celebration: June 22, 5:30-6:15 p.m.
This Vic-specific online graduation celebration will include remarks from Victoria University President, William Robins, Victoria College Principal, Angela Esterhammer, Victoria College Registrar, Yvette Ali, Victoria College Dean of Students, Kelley Castle, the President of the Victoria College Alumni Association, as well as special guest alumni and students.
We encourage all Vic 2021 graduates to join us, along with their families, to celebrate this special graduation ceremony with the Vic community.
Online Graduation Social: June 22, 6:30-7:30 p.m.
Lead and organized by Vic students, an online graduation social will follow the Victoria College Graduation Celebration. This event will provide graduates with a chance to connect and celebrate with their peers in a relaxed, informal setting. Vic trivia, games, hangouts and prizes will all be part of this celebration.
Graduating Award Recipients 2021
View our complete list of award winners, special prize recipients and students with an overall A standing.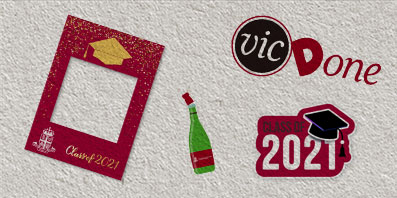 Convocation Downloadables