Congratulations to Vic's Class of 2022! We're proud of all of this year's graduating students. To celebrate your accomplishments, we are profiling some of our amazing Victoria College graduating students and providing an assortment of digital materials to help you commemorate the big day in style.
Vic Class of 2022 social media stickers and backgrounds are available below. See the downloadables section below to grab yours. Use the hashtag #VicGrad2022 to search for photos in Instagram, Twitter and Facebook and to share updates on your accounts.
For more information about our onsite celebrations, make your reservations and see the full schedule.
We look forward to celebrating with all of our graduates at U of T's spring 2022 convocation!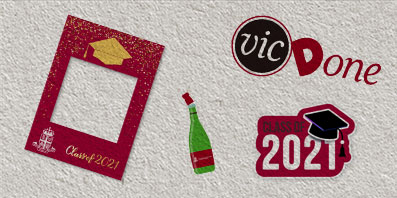 Convocation Downloadables