Congratulations to Vic's Class of 2021! We're proud of all of this year's graduating students. To celebrate your accomplishments, we have prepared the videos featured below, and hope that our welcome message and virtual procession will help set the tone for your special day.
Vic Class of 2021 social media stickers and backgrounds are also available. See the downloadables section below to grab yours. Use the hashtag #VicGrad2021 to search for photos in Instagram, Twitter and Facebook and to share updates on your accounts.
We look forward to celebrating with all of our November 2021 graduates at the U of T's fall 2021 convocation, which will be presented virtually on November 18, 2021 at 12:00 p.m. ET.
November 2021 graduating students will be considered for Awards and Medals in June 2022.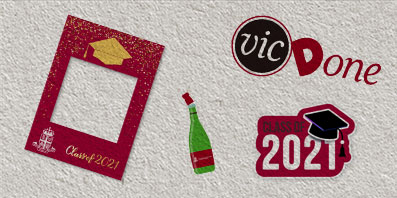 Convocation Downloadables
Graduation Celebration 2021: Student Welcome
Graduation Celebration 2021: Procession